The best food for the puppy is more important for your newborn puppies for maintaining health. Optimum nutrition also prevents neonatal illness and mortality. In your puppies, the neonatal period is considered the first two weeks after birth. The offspring of your dogs are altrical, meaning puppies are born in a relatively immune state and are entirely dependent upon their mother's care.
Best Food For Puppy
---
Sometimes you may be confused about selecting the best food for your lovely puppies. Because of these immune reasons, preweaning mortality estimates for your puppies are estimated to be as high as 40%, and the vast majority of deaths occur during the neonatal period. In my article, I shall highlight the guidelines for the nutritional care of neonatal puppies.
The Healthiest Food for Your Puppy
---
There are lots of commercial preparation available in the market for the best food for puppies. A few of the preparation are listed below for your easy selection.  
Chicken Soup for the oil Puppy Food.

Orijen Puppy.

Best wet dog food.

Nutro Natural Choice Puppy Food.

Merrick Classic Healthy Grains Puppy.

Eukano Puppy Large.

Iams Proactive Health Smart Puppy.

Go Carnivore Puppy Chicken, Turkey, and Duck.
You must be very careful for the 36 hours of your puppy's life. Because this is a critical time, the birth process and the sudden environmental changes that newborns experience are physiologically stressful.
Composition of Natural Milk for Puppy
---
Like all kinds of mammals, your female dogs produce a particular type of milk called colostrum during the first few days following birth. This colostrum provides your newborn puppy with specialized nutrition, prevents diseases, and passive immunity through immunoglobulin (Ig). You must ensure the feeding of colostrum up to 0-5 days of the age of your puppy. If the mother lack colostrum, you can purchase it from a dog care shop.
Average Nutrient Composition of Dog Milk
---
The average composition of dog's milk is as follows: 
Protein 8-10%.

Lactose 3-4%.

Fat 11-13%.

Calcium 1400-2200 mg/l.

Magnesium 90-100 mg/l.

Iron 2-7 mg/l.

Zinc 4-6 mg/l.

Copper 1.0-1.4 mg/l.

Energy 1500-1800 Kcal/l.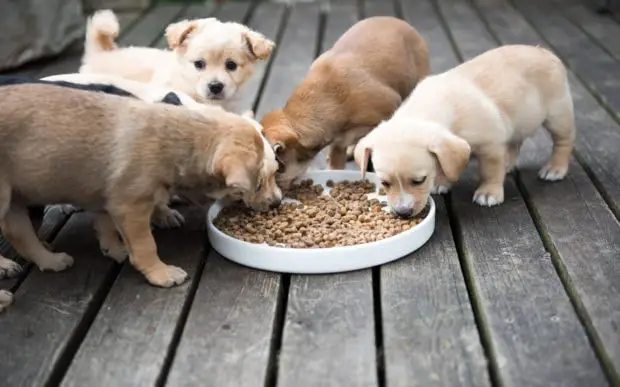 Introducing Solid Food to Your Puppy
---
When your puppy is three to four weeks age, you should have introduced supplemental food for them. Some practical feeding tips are given below:
Begin introducing semisolid food at 3 to 4 weeks of age.

Feed a gruel of growth dry diet mixed with warm water.

Feed your puppies several times per day, and remove the bowl after 30 minutes.

Feed the gruel in a shallow dish.

Begin feeding dry food at six weeks of age.
Nutritional Care of Orphan Puppies
---
The bitch typically supplies warmth, the stimulus for elimination and circulatory functions, passive immunity, maternal attention, nutrition, and security of their puppies. The situation in which the puppy becomes an orphan is the sudden death of the lactating mother, the production of an inadequate quantity or quality of milk, or the rejection of the puppy by the mother. An orphan is any young animal that does not have access to the milk or care of its mother. 
Whatever the underlying situation, your puppies are orphaned. They depend on you to provide maternal care, a suitable environment, and proper nutrition. Although it is difficult, if not impossible, to fully compensate for the mother's absence, the use of proper diet, feeding techniques, and management processes can result in the development of normal and healthy puppies.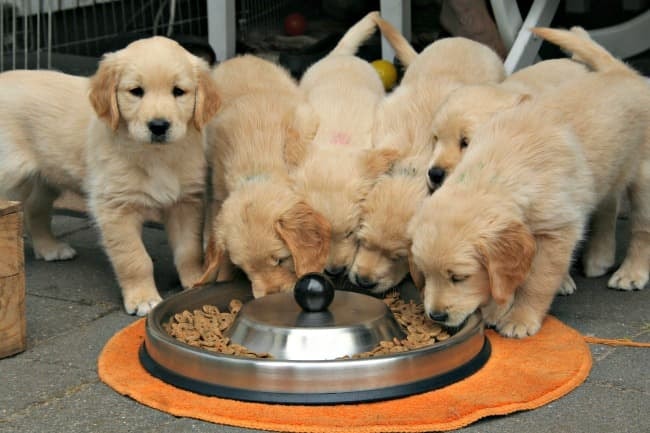 Practical Feeding Tips for Your Orphan Puppies
---
You should provide a warm, clean, and draft-free environment.

Feed a milk replacer that closely approximates the nutrient composition of bitch's milk.

Your vet estimates the correct amount of formula based on the orphan's age and weight.

Divide the formula into four to five equal feedings per day.

Bottle-feed or use a feeding tube.

Weigh your orphans regularly, one time per day for the first week and one to two times per week after that.

Introduce the semisolid food for your puppy at 3 to 4 weeks.

Wean to dry pet food by 6 to 8 weeks.
Takeaway Points on Best Food For Puppy
---
The best food for the puppy is that it supplies all essential nutrients for optimum growth and ensures health. There is no exact definition of the best food. You can judge yourself by ensuring daily care and careful observation. Mother's milk is the best food for the puppy for at least four weeks. Then you can add some solid food in liquid form for further development and health.