The Irish Setter is a highly energetic gun dog breed that originated in Ireland. They are sweet-tempered and famous as good family pets. The dogs are naughty, friendly, curious, and affectionate with family. The alternative name of the dog breed is Red Setter or Irish Red Setter.
The dog breed was used for hunting, using their high sense of smell to locate the mark. The Irish Setter loves to run and needs considerable exercise. This article gives you a clear idea of these lovely dogs. So, stick with us and keep reading!
History and Origin of Irish Setter Dog
---
The Irish Setter was created from English Setters, spaniels, pointers, and Gordon Setters during the eighteenth century to hunt upland game birds. Both red and white and solid red dogs were produced; many registries now consider Irish Red and White Setters a separate breed.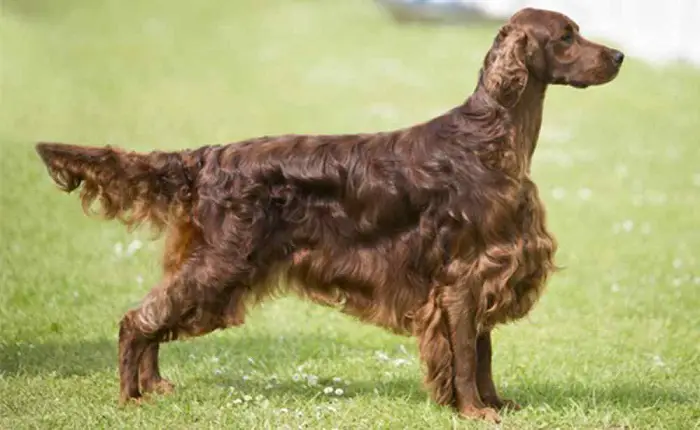 Physical Description: Red Setter Dog
---
The Irish Red Setter is a medium to large-size, lean dog slightly longer than tall. It has a long, lean head; almond-shaped, brown eyes; long drop ears; and a black nose.
The tail of the dog tapers to a fine point. The moderately long, flat coat has silky feathering on the ears, the back of the forelegs and thighs, the tail, the belly, and the chest.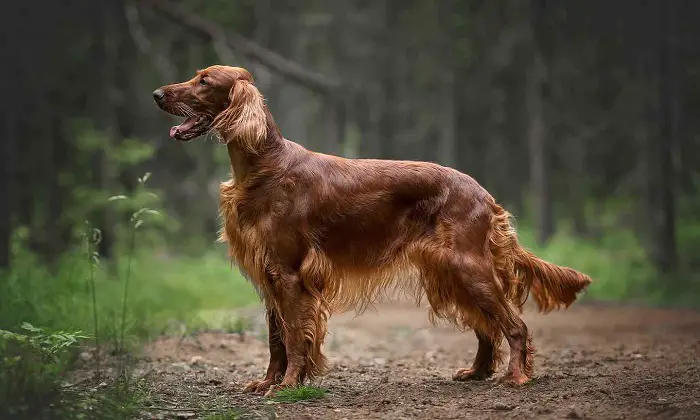 Dog coat colors come in mahogany or rich chestnut red and may have white markings on the chest, toes, and throat.
Height, Weight, and Lifespan of Irish Setter
---
The average height of the Irish Setter is about 25 to 27 inches (60-70 cm).

The average body weight of the dog breed is about 60 to 70 pounds (27 to 30 kgs).

The average lifespan of the dog is about 11 to 15 years.
Temperament or Personality of Irish Red Setter 
---
The Irish Setter is very outgoing, friendly, and lively. It is never hostile and gets along with children and other dogs. It is active and playful in its adulthood.
Best Ownership of Irish Setter
---
The dog breed does best within an active family in a rural or suburban home. You can employ the dog for hunting birds, protecting livestock, herding sheep, being a house guardian, and being a faithful companion.
Special Needs of the Dog
---
The Red Setter does best when you ensure the following care and management:
Attention.

Exercise.

Fenced yard.

Regular grooming.

Leashed.

Proper diet and nutrition.

Proper health care.

Skincare.

Dental care.
Health Concerns of Red Setter
---
The dog is energetic, active, intelligent, and healthy. The dog is affected by common canine diseases. You must ensure regular vaccination against potential diseases. The specific diseases of this dog breed are:
Concluding Words on Irish Setter
---
The Red Setter is a good-sized sporting dog. Their appearance is stunning, and they are well-known for their "rollicking" attitude. They are easygoing and friendly, both with people and other dogs. 
The dog is the quintessential family dog, with a playful, sweet temperament that makes them ideal companions for owners of any age. 
Well, it's time to leave. We'll soon come back with something new. Until then, check out this website and give us a review. We'll wait for your response. Also, don't forget to share this article with your friends.
If you are interested in other dog breeds, don't hesitate to visit our website. Thank you for your time.