Irish Terrier is one of the many breeds of terrier that originated in Ireland. The alternative name of the dog breed is Irish Red Terrier. The dog is an energetic and compactly sized breed suited for life in both rural and city weather. Their harsh red coat safe them from all kinds of environments.
The dog is an active, innovative, and quick breed that fastly adapts to new situations. The dogs are famous for their children and are intensely loyal to their owners. This article gives you a clear idea of the lovely dog. So, stick with us and keep reading!
History and Origin of Irish Terrier
---
This is probably the oldest native terrier in Ireland. Bred to work small game and to control vermin, it is also a good retriever and will retrieve from both water and land. The dog was used for hunting big game and served as a military dog during World War I. A working-class dog that was only at the turn of the twentieth century that the breed was standardized.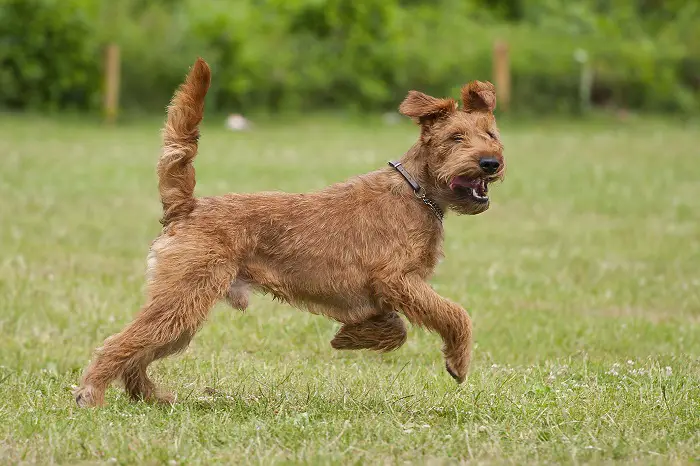 Physical Description: Red Terrier Dog of Ireland
---
This is a medium-sized dog that is powerful but agile. Its head is long, and the skull is flat and narrow and free of wrinkles. The skull and muzzle are equal in length, and the jaw is firm. 
The small, dark brown eyes are often described as fiery. It has a black nose and small, V-shaped ears that are semi-erect, folding forward. The tail is docked by about a quarter of its length and held high.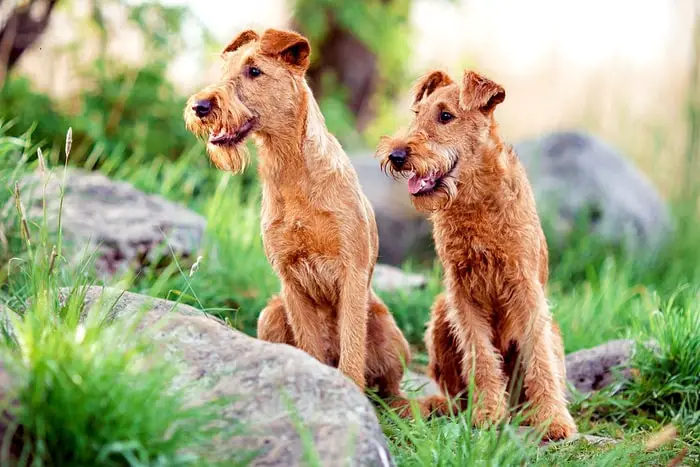 The dog has a soft undercoat and a wiry, broken, medium-short outer coat that fits close to the body. The face has a beard and whiskers. The coat can be bright red, golden red, red wheaten, or wheaten.
Height, weight, and Lifespan of Irish Terrier
---
The average height of the Irish Terrier is about 18 inches (40-45 cm)

The average weight of the dog breed is about 25 to 27 pounds (12-14 kgs).

The average lifespan of the Irish Red Terrier is about 13 to 15 years.
Temperament or Personality of the Irish Red Terrier
---
This is a good-tempered, spirited dog that is affectionate and loyal to its family but fiery and courageous in the field. It is very protective, sometimes overprotective, marking an excellent guard. It is challenging to train as it can be mischievous.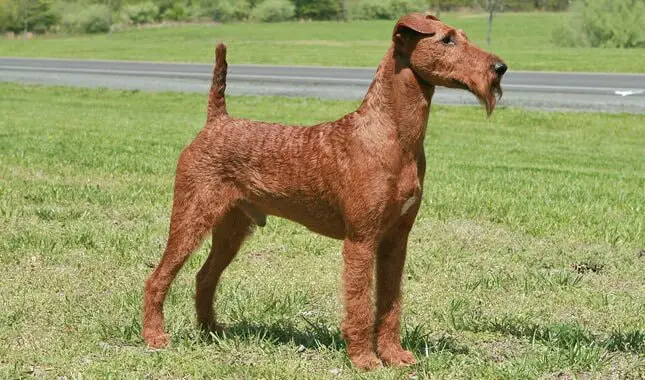 Best Ownership of Irish Terrier
---
This breed adapts well to the city or country. A dog-experienced owner is best for the Irish Terrier.
Special Needs of Irish Red Terrier
---
The dog is highly active, intelligent, and energetic. The dog needs the following care and management to get optimum function:
Fenced yard.

Leashed.

Moderate exercise.

Socialization.

Proper diet and nutrition.

Proper health care.

Skincare.

Proper dental care.
Health Concerns of Irish Terrier Dog
---
The dog was healthy and affected by a few diseases. You must ensure regular vaccination against potential diseases. The dog needs regular deworming with a broad-spectrum anthelmintic. The following diseases are commonly seen in older dogs of this breed:
Bladder stones.

Luxating patella.

Dental disease.

Ichthyosis.

Hyperkeratosis.

Canine degenerative myelopathy.
Concluding Words on Irish Red Terrier
---
The Irish Terrier is very wonderful toward the humans in their lives, though the dog may prefer to be the solo pet in the home. The dog is a loyal watchdog, livestock guardian, and hunting companion. They need a decent amount of daily exercise.
Well, it's time to leave. We'll soon come back with something new. Until then, check out this website and give us a review. We'll wait for your response. Also, don't forget to share this article with your friends.
If you are interested to know the other dog breeds, don't hesitate to visit our website. Thank you for your time.