New Forest Pony is one of the nine native pony breeds of Britain. It is a true pony, and renowned for sensible temperament, hardiness, and ease of breaking. It has exceptional speed and jumping ability for its size when crossed with Thoroughbreds and Arabs a very useful one-day-event type is obtained. 
What is the Origin of the New Forest Horse?
---
The origin of the New Forest pony is England. The forest has a close relationship with the growth and development of this horse breed. Some opines that this breed originated in Spain. NF Pony was found early in Roman Villa at Rockbourne. 
Size and Lifespan of New Forest Pony
---
This breed is one of the recognized mountain pony breeds of the British Isles. Height is up to 14.2 hands ( 48 to 58 inches, 122 to 147 cm). There is no lower limit, although New Forest ponies are seldom below 12 hands. The average weight of these ponies is 230-330 kg and the average lifespan of these Ponies is 25 to 33 years.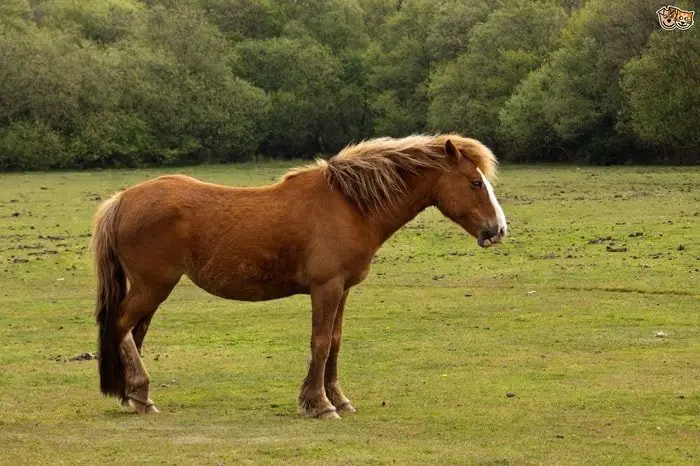 Breed Characteristics of NF Pony
---
Any color is acceptable except piebald, skewbald and blue-eyed cream. The average height is 14.2 hands. The New Forest is a riding pony and therefore coarseness is undesirable. However, it must have sufficient bone to be capable of a day's hunting or stock work. Sloping shoulder and powerful hindquarters. The legs are straight and strong and the body is deep. The children are easy to ride. 
Versatile Uses and Temperament
---
The ponies have a gentle temperament and they are a sturdy and hardy breed. They are friendly and docile temperament. The ponies are talented, quiet, intelligent, versatile and easy to train. They are used in affiliated dressage, showjumping, and eventing.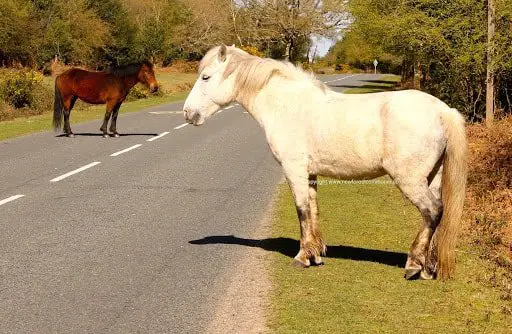 Unique Characteristics of New Forest Pony
---
Few unique characteristics of NF Pony for the beginner are as follows:
All colors are acceptable except piebald, skewbald, and blue-eyed cream, but most are chestnut, bay or grey.

The ponies can be ridden by children or adults

They are very sturdy with plenty of speed

NF Pony was successfully utilized in the Boer War in South Africa as Forest Scouts. It was found that they were stronger than other horses and mules in adverse climatic conditions.
Are New Forest Ponies Dangerous?
---
The ponies are easy to train, gentle, quiet, docile, smart, friendly and willing to please. They are suitable for all levels of horse owners and riders, including children. You can easily choose as pets for your kids and that may enhance the glory of your collections.