The word "dressage" comes from the French word Dresseur means to train a horse. Dressage is a unique type of discipline for horses and riders in any event. The uniqueness of dressage includes Endurance riding, three or five-gaited horses, Hunter/jumper, Tennessee walker, Reining, Eventing, or any other types that come to your mind. Dressage horses are the most important events in the Olympic, enjoyed great international popularity worldwide.
 Dressage horses are given the training to perform a series of prescribed movements. The difficulty of horse training increases from beginner to highest level that goes to the National level to the International Equestrian Federation (FEI) level. Most of the dressage events were performed in a 20 X 60 meter ring, in some cases shorter rings also used. The horses and riders are judged by a group of experienced, internationally recognized judges. They give marks to both horse and rider from 0-10 and some remarks. The higher marks represent excellently, 5 marks satisfactory and "0" marks represent not acceptable.
What is a Dressage Horse?
---
The horses which are used for dressage training are commonly known as dressage horses. Dressage is considered as the ballet of horses. Both horse and rider perform the dressage training and after any competition, both are judged. A complete dressage training is given to the horse and its rider. 
1. Dressage Training
---
Dressage training in the United States and other parts of the world is based on six progressive methods. The steps are rhythm and regularity, relaxation, contact, impulsion, straightness, and collection. The first lesson is rhythm, which means the pure walk, pure trot, and pure canter. Regularity means the evenness and stride at the same level. The horse should make a smooth transition from one event to another is called relaxation. Contact is the result of pushing power and the pushing power is called impulsion. Straightness is the maintaining balance in every gait. The collection is at the apex of dressage training.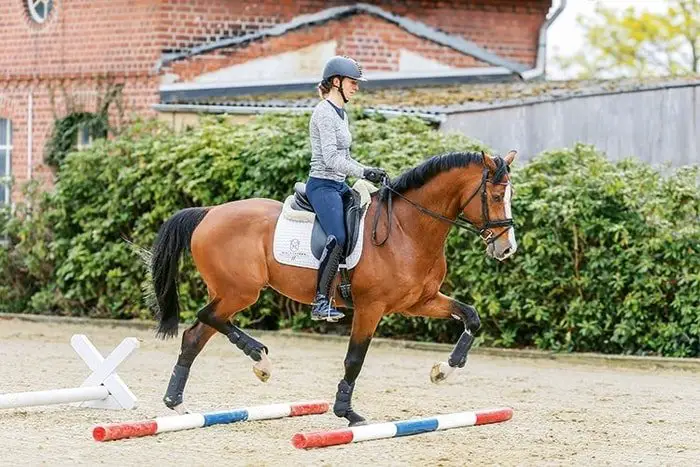 2. Tips for Choosing a Dressage Horse
---
While selecting a horse for dressage training you must look at a few points. The following tips will help you select a horse for dressage training and make an excellent eventing horse.
a. The paces. While selecting dressage horses, you must look at how they move in the paddock, under saddle or in a lunge ring. You must observe the paces while horses are relaxed. If the horses are playing with other horses or chased, you may see very extravagant movement but that is false. I walk the horse should maintain rhythm. 
b. The Conformation. A good conformation horse is likely to stay sound while high-level dressage is required. The good conformation horses certainly stack your favor and move well and collect. A perfect conformation horse finding is nearly impossible. Some horseback riders overlook some flaws but maybe deal-breakers to others.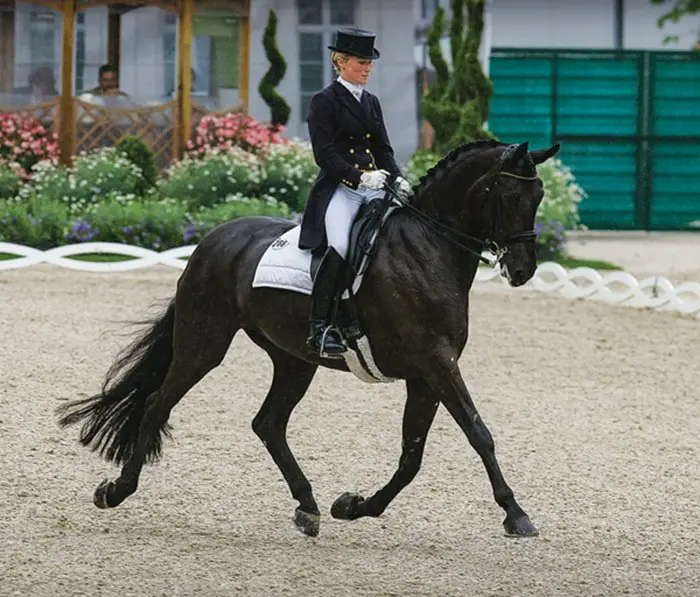 c. The Attitude. The attitude is very important for a dressage horse. You must test the attitude of the horse in lunge rings or during movement. The horse doesn't need to be docile or lazy but a bit of spark is welcomed. The horse must have the willingness to work and acceptance of training. 
3. Dressage Horse Breeds
---
Most of the horse breeds of the world can be given dressage training. Warmblood horses are mostly used in dressage training. Other popular horse breeds for dressage training are American Paint horse, Andalusian, Akhal Teke, and Morgan. With proper training, you make a dressage horse to any horse breeds.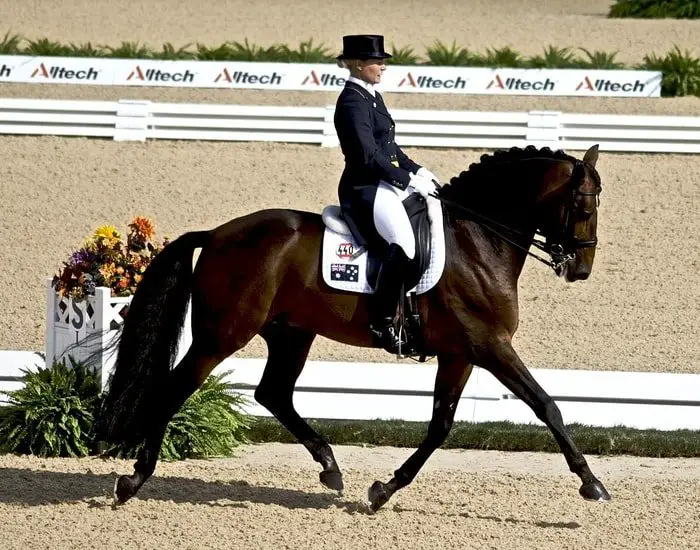 4. Dressage Competition
---
The dressage competition includes a series of individual performances with an increase in difficulties. The dressage test and competition are governed by the rules of FEI( Federation Equestre Internationale). There are different levels of dressage competition in the world. The highest level of dressage competition is Grand Prix, which is ridden in the Olympic Games, World Equestrian Games, and Dressage World Cup.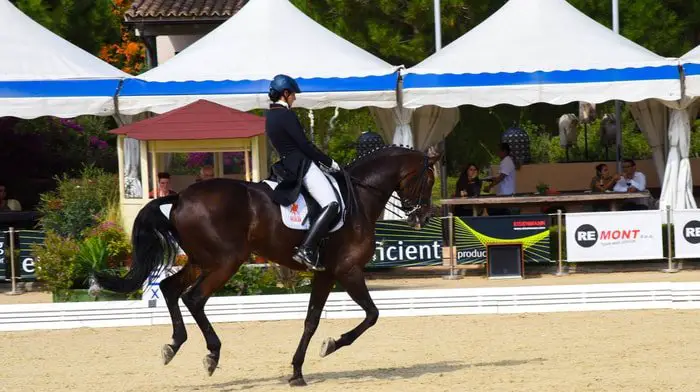 Dressage competitions are mainly two types: small tour ( Intermediate I and Grand Prix St Georges) and big tour (Grand Prix, Grand Prix Special, and Intermediate II). There are four to six other lower-level competitions governed by British Dressage, USDF in America, Dressage Australia, etc.  Few other traditional dressage horse riding is alive by Spanish Riding School in Vienna, Cadre Noir in Saumur, France, and Escola Portuguesa Arte Equestre in Lisbon, Portugal. 
5. Dressage Test
---
Dressage tests are taken for both horse and its rider. The test is a formalized sequence of the number of movements of dressage horses performed in a competition. The performances are completed at a specified time and follow some international rules. The Olympic dressage tests are governed by FEI. The lower level dressage competition follows the United States Equestrian Federation, British Dressage, etc. The horse gave a mark range from 0-10 and a few remarks (scribing).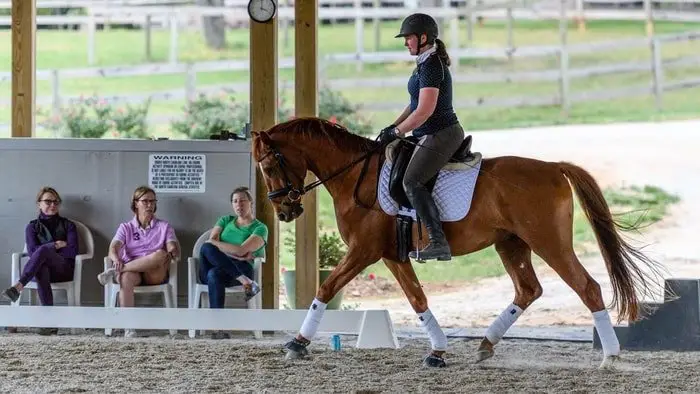 6. Dressage Trainer
---
The normal horse trainer may also give dressage horse training. Dressage is a sequence of events performed by the horse and rider in a competition. The sequence and procedures are governed by the FEI and other organizations. The trainer selects good quality horses based on the breeds and physical conformation. The training of the dressage horse follows a few sequences and criteria that I have mentioned earlier.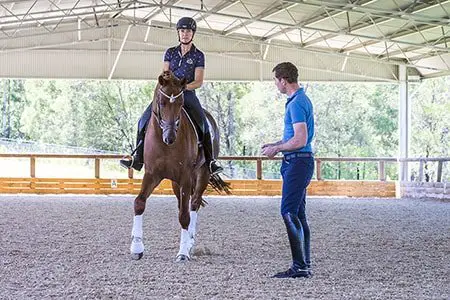 7. Horse Gear/ Horse Tack
---
The dressage horse put on minimum gear/tack like saddle, harness, and blanket. The horses are not allowed to put on boots, tail bandages or wraps, martingales, running reins or gogue. English saddle is most commonly used in dressage. The horse should have a high standard of turn out like a well-clipped mane, tail, bridle path, polished hoof, and clean body.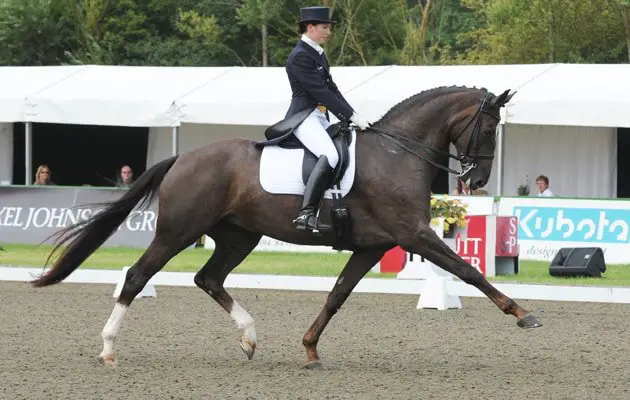 8. Is Dressage Cruel to the Horse?
---
This is a very important question for many animal lovers. Many think that any type of training given to horses is cruel. This is one of the finest horse training that is given all categories of horses. Horse abuse is a different thing. If the horse is forced to take dressage training, this may be considered as cruel to the horse. The dressage training and competition strictly abide by the rules of FEI.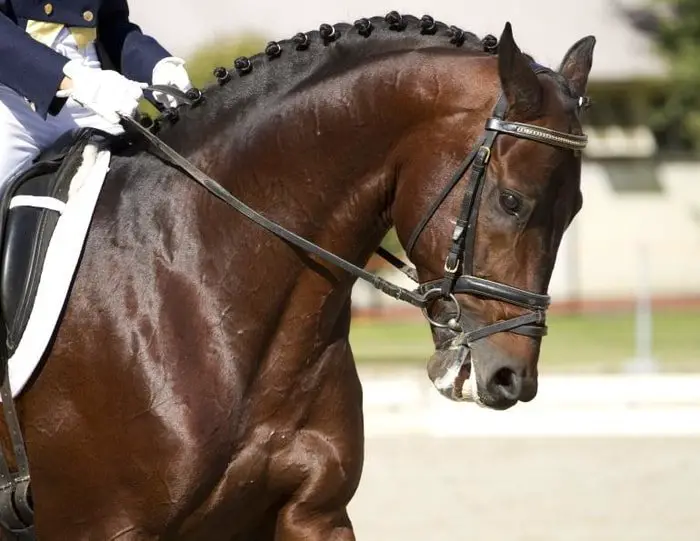 9. What are the Differences Between Equestrian and Dressage?
---
Dressage is the prescribed training given to the horses for competition in Olympic games, dressage shows or International dressage competition. The equestrian denotes three more things than dressage. Those are training of horses for competition, daily management of horses for keeping healthy, beginners training of young horse riders, and education program for future equestrians.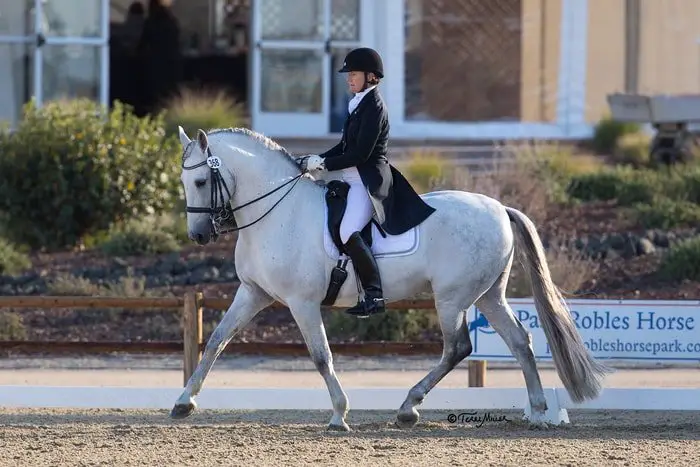 10. Do Horses Like Dressage?
---
If you properly train your horse sequentially by an expert trainer, the horse is enjoying dressage training. Otherwise, dressage is a good exercise to keep your horse healthy and fit for work. Your horse will be benefited physically and mentally by continuous and systematic training. Dressage training is one of the horse welfare as per the Australian horse association.
Final Talk on Dressage Horse
---
Dressage training is the most systematic and corrective training for all breeds of horses. Dressage is also called ballet for the horse. Dressage training is both for horse and its rider. The rider didn't use any voice for the training. Only the movement and guide by rein, hands, and legs of the rider acts as the mode of training. There are many methods of dressage training that follow the rules of FEI, American Dressage Association, British dressage, etc. At present, dressage training is considered as the mainstay of competitive dressage.