The Clydesdale, a famous horse breed was bred to be a very versatile draught horse breeds. It is one of the rare, if not the only, flat-boned draught horses in the world. The horse is the most recognizable and well known of all the heavy horse breeds. In my article, I discuss the origin and history, general appearance, feeding, temperament, and the unique characteristics of Clydesdale horse which is essential to know for the horse lovers.
Origin and History of The Breed
---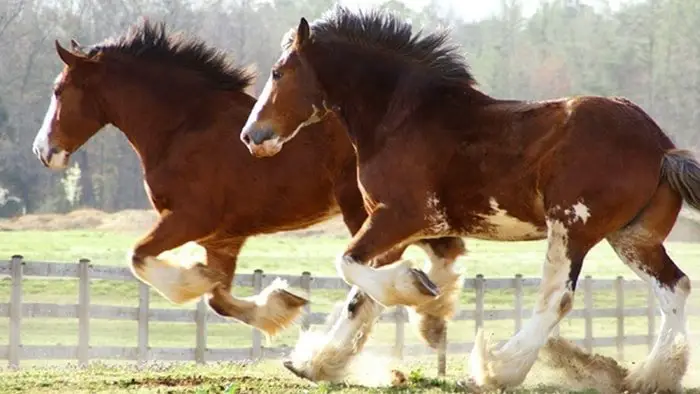 The Clydesdale horse originated in Scotland. The old name of this breed is Lanarkshire. The horse was developed in Scotland during the 18th and early 19th centuries in the district of Lanarkshire. The river Clyde of Scotland runs through the area, and then the name Clydesdale arises.
General Appearance of The Horse
---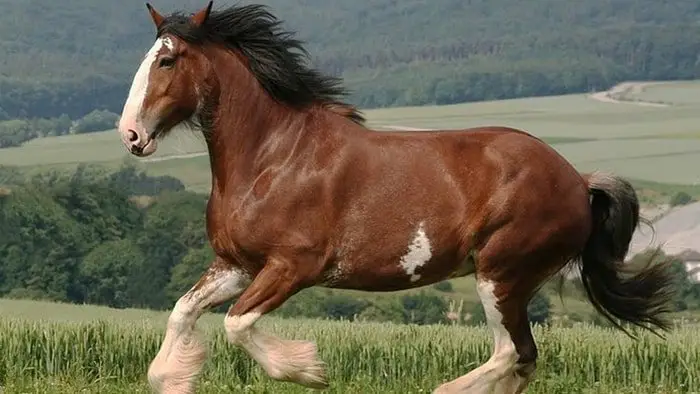 The horse is short-coupled and has broad, sloping shoulders. The Clydesdale is the tallest breed, and the height is average 16 to 18 hands, and the weight is average 1600-2000 pounds. They are most commonly bay in color but sometimes they are black, chestnut, and grey in color. The horse breed has a straight and board forehead.
Temperament and Lifespan of The Gentle Giant
---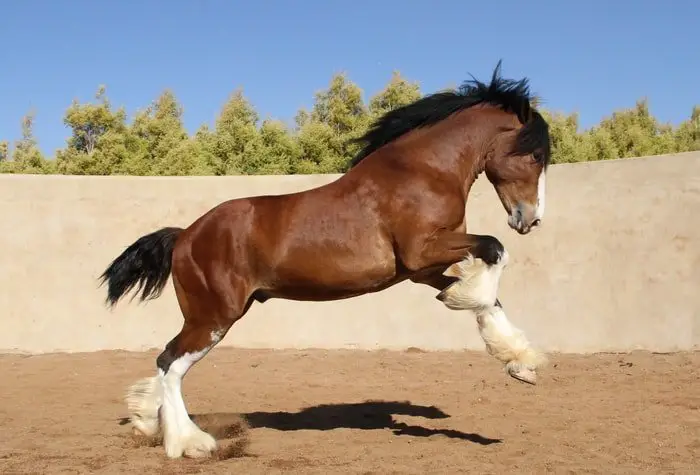 The Clydesdale are very docile, gentle, intelligent and has a majestic "outlook." It is a great favorite in the show jumping ring. After being unknown as a power source for the last 40 years, the draught breeds are again was bred in the United States, Europe, Japan, and Australia as a source of power for smaller farms and short haulage work. The lifespan is average from 20 to 25 years.
Unique Characteristics of Your Boy
---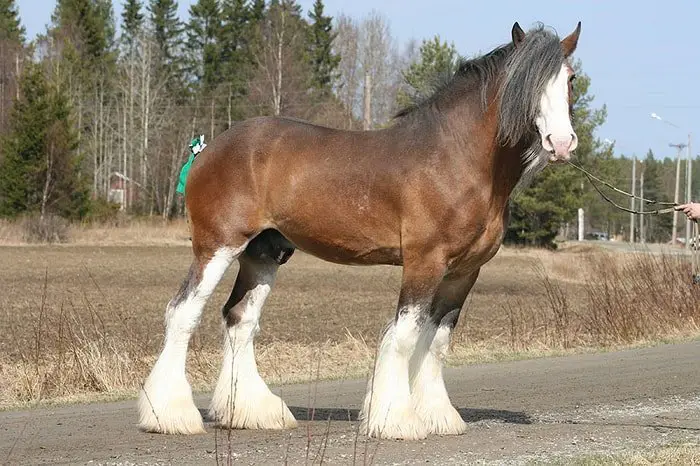 The unique characteristics are their board feet give it a firm grip on the ground, and its massive springy heels act like shock-absorbers under the pressure of hauling heavy loads.
Fine joints of this horse, the set and flexibility of its patterns and its well-setting, both hind and fore, enable it to maintain very sound limbs and to perform the job it was principally bred for-to move large loads quickly.
Feeding Behavior of The Lovely Equine
---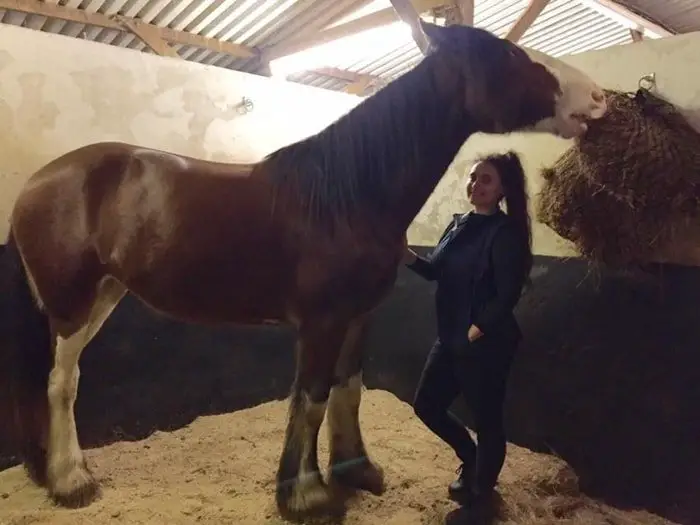 Feeding is a significant factor for your excellent horse. Proper feeding practices are essential to all herbivores animal. You must have to ensure that, nutrition should be given at a regular time and place daily. A horse is a creature of behavior and learns to expect food at scheduled times. Your boy eats hay and concentrate, and the feed is a mixture of beet pulp, bran, oats, minerals, salt, molasses, and water.
Grooming Care of Your Horse
---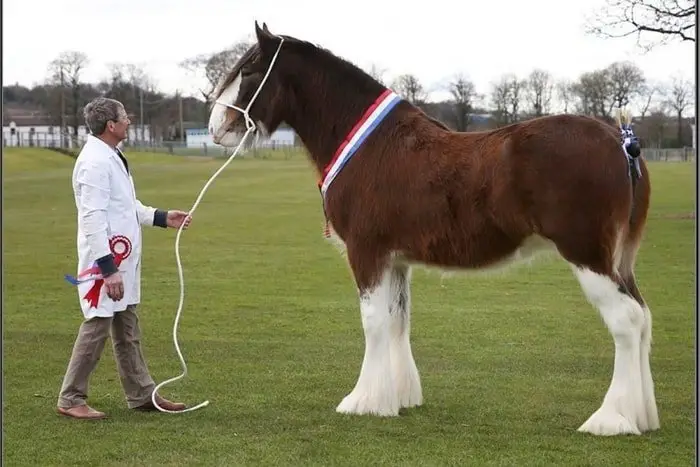 Your horses to need grooming every day. Not just to make them shiny, but to keep their skin healthy. This does not mean you have to spend a 3-hour marathon brushing and polishing, but a 20-minute massage will make your horse feel better. Grooming is the best care of your lovely Clydesdale.
Handling and Training of Your Baby
---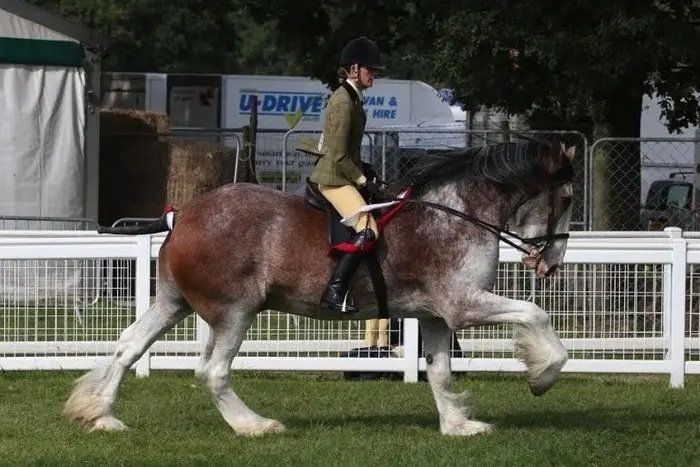 Safe handling and riding is a vital fact of this horse. Exercise can take an essential role in the management of your horse. The horse can exercise itself it is allowed out to run in a paddock, it may be lunged, driven in reins or ridden. If it has been ill or injured, it might just walk on a lead for a while. When you were handling and training your horse, you should always approach at an angle and gently. Never directly contact your horse from the front or the rear.
Versatile Uses The Horse Breed
---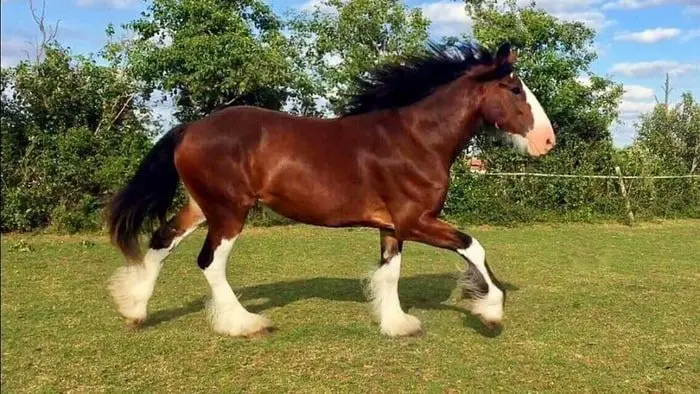 The horse is an excellent draught animal. They are used in both riding and driving horse cart. Sometimes its used in agriculture work and logging. Clydesdale also a show horse and performing tasks in agricultural, industrial and commercial transportation.
Why Choosing a Clydesdale Horse Breed
---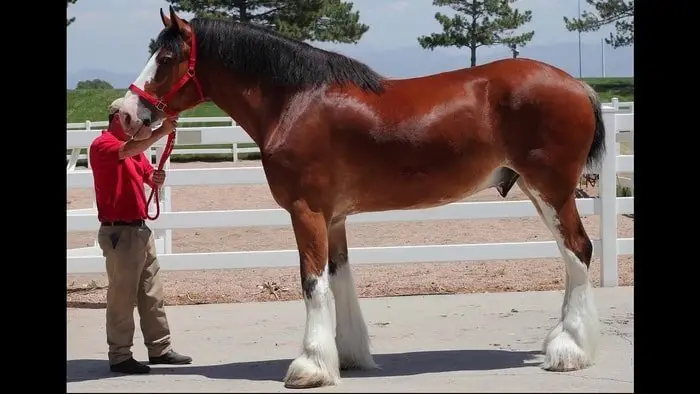 The exceptional characteristics for choosing of Clydesdale are as follows:
They are a perfect looking horse.
They are a good-tempered.
Docile in behavior.
Intelligent and loyal animal to master.
They are more energetic than many other draft horse breeds.
The animal is a different, and better-performing riding draught horse, so you have to choose a Clydesdale horse no doubt.
Final Words on The Breed
---
As a horse lover and academician, the above information will help you to increase your knowledge of the horse breeds. You may get a considerable volume of issues on the internet, but I have summarized very briefly for you. The horse is one of the precious draft horse breeds due to its unique behavior.