Very few people who are not professionally involved with horses can buy themselves a suitable mount, mainly their first horse. It is essential to have an experienced horseperson assist you in buying a horse. When buying a horse, you must first decide on the amount of money you are prepared to pay. You must also consider the facilities you have and the time and money you need to look after the horse correctly. Remember, the cost of buying the horse is a little cost relative to keeping it.
Most Important Point on Buy A Horse
---
Do not be too much of a hurry to buy a horse, as that's a sure way to end up with a horse that is not suitable for your needs. Take the time to make sure you buy a horse suited to your capacity as a rider. No one's riding is improved by a horse that is too hard to handle: the result is often loss of confidence and a ruined horse. In my article, I shall discuss the essential points that you must consider before buying a horse.
A. Breed Suitability of Horse
---
Most people do not consider the breed and start looking for a specific ability horse or pony. It is, however, crucial to choose a breed that will be able to give you the most pleasure and achieve the best possible in the field of your choice. 
If you want a good "all-rounder," it is still essential to choose a particular breed. The following are exclusive features of the various breeds and crossbreeds most commonly used for the various disciplines.
1. Pleasure Riding
All pony breeds, Quarterhorse/Thoroughbred cross, Quarter horse, Clydesdale/Thoroughbred cross, Appaloosa, Arabian, partbred Arabian, Buckskin, Paint horse, Pinto horse are suitable breeds for pleasure riding. You choose any of them for your pleasure riding and also companion animals.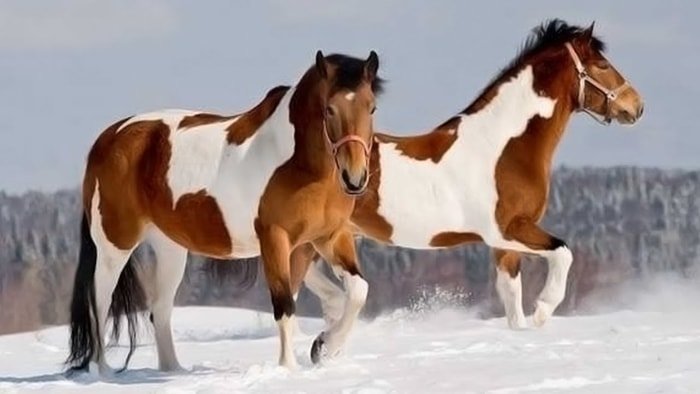 2. Pony Club
All pony breeds, Welsh Cob, Arabian, Partbred Arabian, Andalusian/Thoroughbred cross, Clydesdale/Thoroughbred cross, Quarterhorse/Thoroughbred cross, and Thoroughbred horses are classified in pony clubs.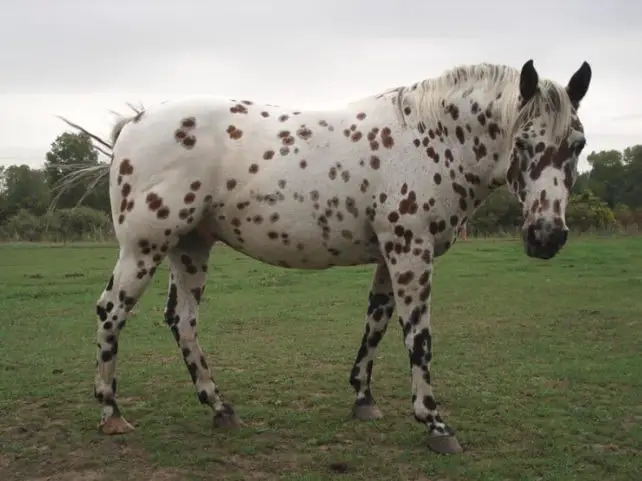 3. Jumping and Eventing Horses Breeds
Many people buy a horse for use in jumping or eventing events. Thoroughbred, Clydesdale/Thoroughbred cross, Cleveland bay crosses, Andalusian/Thoroughbred cross, Warmblood horse, Warmblood cross horses, Percheron/Thoroughbred cross horses are suitable for jumping or eventing.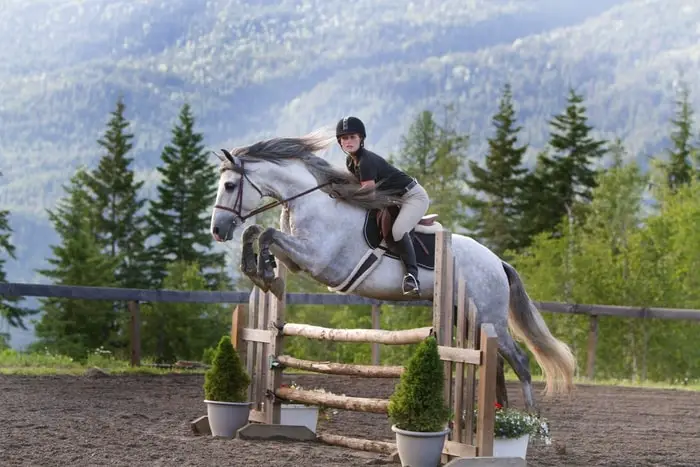 4. Dressage Horse
Dressage is an essential equestrian sport and popular competition. The horse breeds that are best suited for this purpose are Andalusian, Andalusian/Thoroughbred cross, Australian Riding pony, Australian Saddle pony, Anglo-Arab horses, Cleveland bay and Cleveland bay crosses, Clydesdale/Thoroughbred cross, Percheron/Thoroughbred cross, Hanoverian, Trakehner, Oldenburger, and Warmblood cross horses.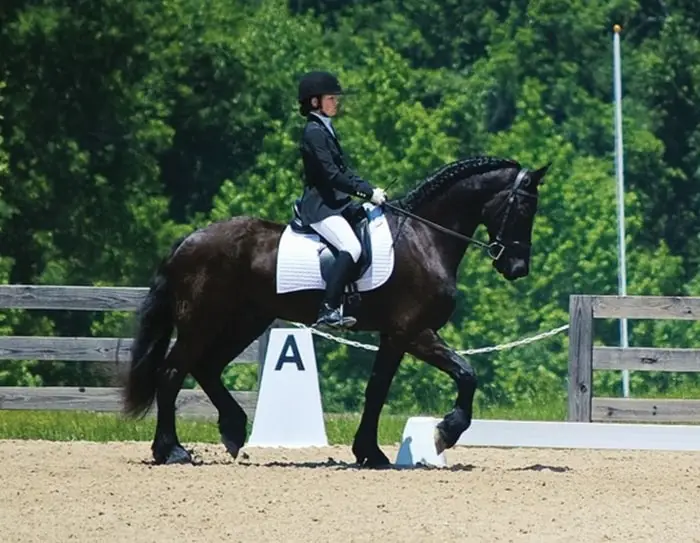 5. Showing Horses
Many people buy a horse for showing purpose. The horse show is a very famous equestrian event throughout the world. Welsh Pony, Australian Saddle Pony, Australian Riding Pony, Thoroughbred, Australian Pony, Arabian, Anglo-Arabian horse, Warmblood/Thoroughbred cross horses, and Australian Stock horses are suitable for showing.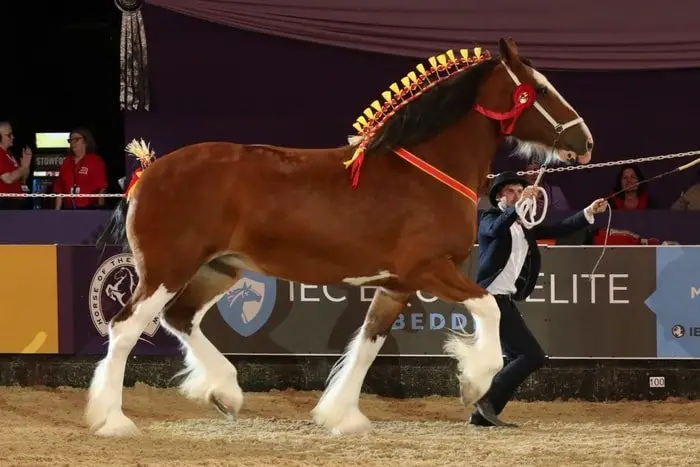 Methods of Buy A Horse: 5 Common Sources
---
There are several methods by which horses are brought and sold. Standard methods include horse auction and horse dealers, private sell through the newspaper, magazine advertisement, online advertisement, social media, and word of mouth.
1. Word of Mouth
It is often a better idea to make inquiries through the local people involved with horses; through pony clubs, riding schools, produce stores, and saddlery shops. People with experience may know what is suitable for you, and this, in turn, may decrease the amount of time you will have to spend traveling to find a suitable mount.
2. Private Sell
A newspaper such as The Weekly Times and Stock and Land, local papers, and horse magazines are good places to look for private sell advertisements. However, buying a horse privately through the papers has a few drawbacks.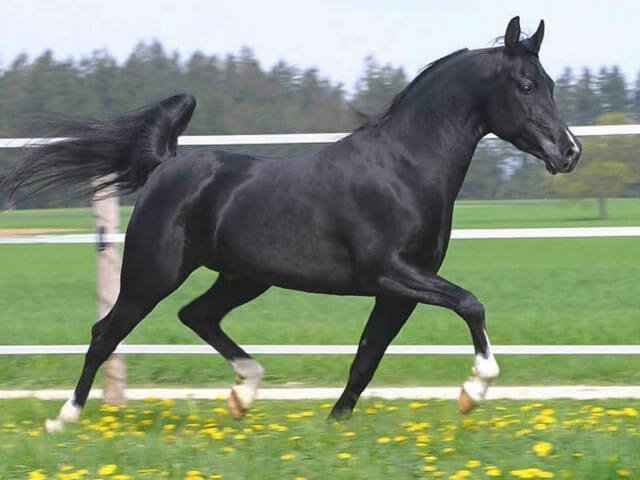 Often a horse's features are exaggerated and over-valued in newspaper advertisements. That's not to say that the horse's current owner is deliberately telling lies; it is just that horse owners often have very high opinions of their horses. It is sometimes difficult to establish this from an advertisement and brief telephone call, which means that you may end up traveling long distances to see unsuitable horses. 
Despite those problems, however, buying horses through private sales can be rewarding, especially if you know what you want and you ask the right questions over the phone. Tips on which questions to ask I will give in subsequent paragraphs.
3. Sale Registers
Horse and pony sell registers keep information on those wanting to sell horses and those wanting to buy horses, matching up "comfortable" buyers and sellers where possible. A good sales register will do some of the work of finding a suitable horse for you, although you will still have to go and view the horse yourself. One such register, the National All Breeds Sale, is a computer-aided Selling (CAS) system that operates in every state in Australia.
4. Buy a Horse: Horse Dealers
Be very careful while buying a horse from dealers or traders, especially if you are a new or novice owner. Dealers can sell terrific horses, but some dealers may overvalue or misrepresent the suitability of a horse while saying, "this is the horse for you."
5. Horse Auction
Buying a horse at an auction is another option, which has the advantage of enabling you to view several horses at once. There is a couple of significant drawbacks, however.
The first is that auction sales are not suitable for assessing temperament under saddle, gait, lameness, performance, and other essential factors. It is most unlikely that you will be able to ride a horse or take it home on trial unless other arrangements are made with individual sellers. 
The second drawback is that many of the horses sold at auction are a problem or reject horses turned over by horse dealers. This depends on the type of auction as this determines the type of horses being sold. Generally, however, horses that are being sold at auction are being sold there for a reason.
If you are a well-experienced horse person or have an experienced horseperson with you, you may be able to overcome these three drawbacks. If so, there is a possibility that you will find a quality horse at an auction and that you will be able to buy it at a meager price. 
Buy a Horse: 15 Important Questions to Ask
---
If you are telephoning in response to an advertisement, you need to give some serious thought to the types of questions you must ask. Asking the right question may save you hours of unnecessary driving time and petrol wastage. Some of the major questions and queries you should ask are:
What is the horse's breeding background (sire and dam)?

Is the horse or pony registered, and if so, with what society?

What are the horse's accomplishments, in what disciplines, and when?

What does the horse look like?

Does the horse have any major conformation faults?

How does the horse handle floating, shoeing, catching, lunging, riding in traffic, riding around other horses, tying up, and clipping?

Does the horse trip and stumble a lot?

Does the horse have bad habits such as windsucking, kicking out at other horses, biting, or nipping?

What sort of temperament does the horse have? Is it ever nervous? Does it ever shy?

Is the horse or pony currently being ridden regularly? If not, how long has the horse been since it was last ridden?

What kind of condition is the horse in?

When was the last vet checked? What were the results? Is it entirely sound, with good clean legs?

Is the horse free of any known allergies?

What sort of person (age, ability) is the current owner/rider?

Is the horse accustomed to being ridden by one gender (male or female) only?
The explanations to many of these questions may not be the answers you would like to hear. No horse is perfect, so you are probably going to have to compromise in some areas. However, it is crucial to make sure the horse is suitable for what you want to use it for. If it is to be a child's first pony, personality and temperament are the most important considerations, and conformation defects of a minor nature can be ignored. If you have plans for the show ring, however, conformation may be a vital consideration. 
After asking those questions, you think that the horse may be suited for you, arrange to go and see it. If you are not confident, tell the person you are speaking to that you would like to think about it. You can always ring back later.
Buy a Horse: 8 Most Important Factors To Consider
---
It is essential to take the trouble to go and view a horse that you view the horse subjectively. Please do not buy the horse because it is an unusual color, but it is only suitable for you. When trying to determine whether a particular horse is suitable for you, several factors should be considered.
1. Temperament and Behavior of Horse
Temperament is of particular importance, particularly in a first horse. The horse must be on your side. You are fighting a losing battle if the horse is forever against you, so make sure the animal is gentle and friendly in the field and stable. When mounted, the horse should not be too excitable, but neither should it be sluggish. Temperament is inborn and has nothing to do with training.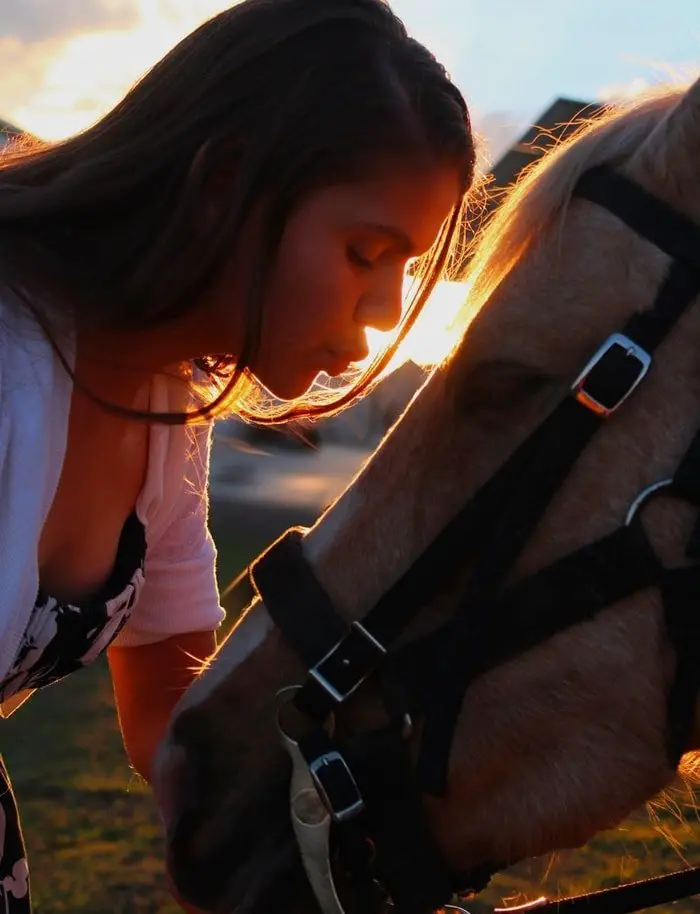 2. Manners of Horse
Good manners can be gained as a result of good training. Make sure the horse is obedient and has no tricks. A well-mannered horse will give a beginner confidence.
3. Size of the Horse
The rider's foot should, ideally, be level with the bottom of the horse's stomach. If the legs are too short or too long, the rider cannot ride as effectively. Many people are misguided by buying big horses that are too strong for them.
4. Action of Horse
Check that the horse has a good walk and does not stumble frequently. The horse's hind foot should land near or in front of the forefoot on the same side, and hind and fore toes should not be dragged. The trot should be sparingly and lively, sot a shuffle or prance, with head held high. The canter should be comfortable and smooth. Overall, the horse should have a good feel, The horse should not be lame, and this should be assessed by trotting the horse in a straight line around corners on various surfaces while on a loose rein.
5. Shape of the Horse
The horse should be present a well-balanced promotional figure. Make sure the head has a kind eye character. Good depth of girth, sloping solid shoulder, a well-pronounced muscular wither, and well-developed forequarters and hindquarters are essential. Make sure that the neck and back are in proportion to the rest of the body.
In general, being able to assess a horse's conformation take experience and a trained eye. It is, therefore, a good idea to have an experienced horse person with you.
6. Buy a Horse: Legs and Feet of Horse
The most common area of wastage and unsuitability for purchase is leg or feet problems. Different types of users have different needs, and a suitable horse for weekend riding may not be suitable for showjumping. Before a veterinary pre-purchase examination, you should consider the shape, structure, and type of hooves, leg swellings, joint enlargements, and performance history.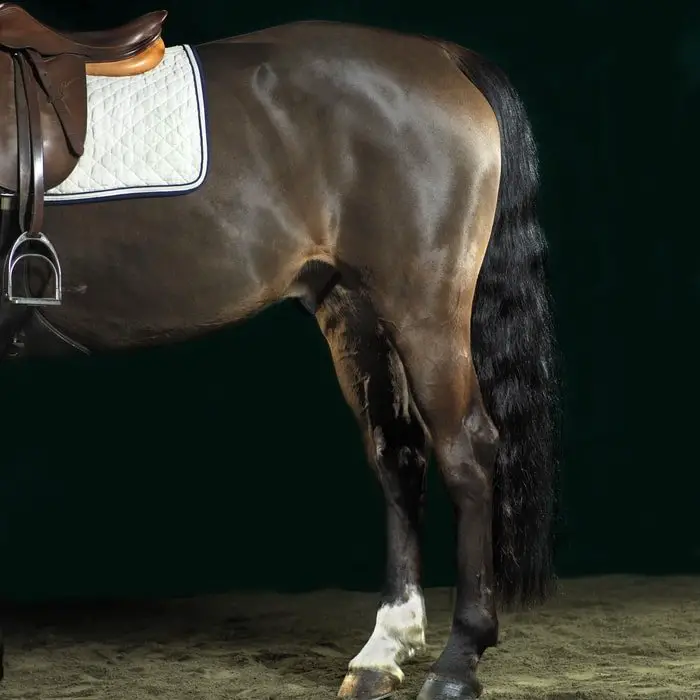 Pay particular attention to hoof conformation and durability, as these factors will affect the cost of hoof care and your use of the horse.
7. Age, Color, and Breed of The Horse
Five to ten years old is the perfect age of horse purchase, but a well-preserved 15 years old is fine. Many ponies live until they are 30. Do not buy an inexperienced and young horse. Young horses and beginner riders do not go together well. Some pony breeds with good reputations include Welsh Mountain Ponies, Connemara, Australian Pony, and many crossbreds.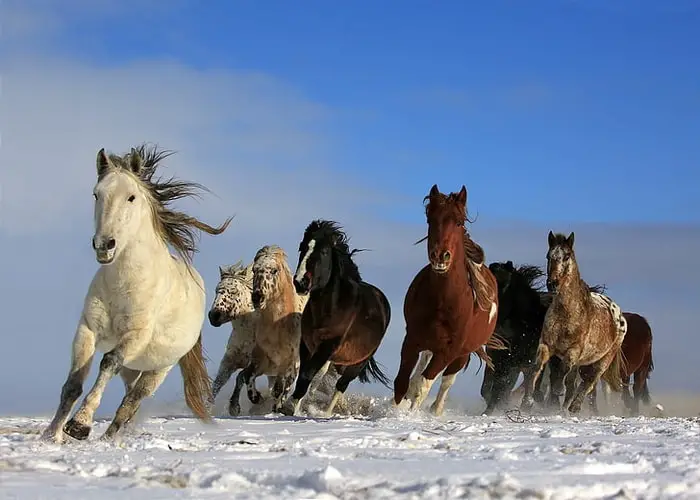 Generally, Arabs and Thoroughbred horses are ore highly strung and are unsuitable as a first mount. The color of the horse is immaterial. Remember that greys get wither as they age, and clipped horse's costs are a duller color than their natural coat. 
8. Health of The Horse
A veterinary inspection is vital and will identify health issues that you should consider before buying a horse. These include sight, internal disease, parasites, teeth, cancer, heart function, lung function, and most importantly, leg or hoof problems. Make sure you engage a veterinarian independent of the seller and be prepared to pay a fee that equates with a detailed examination.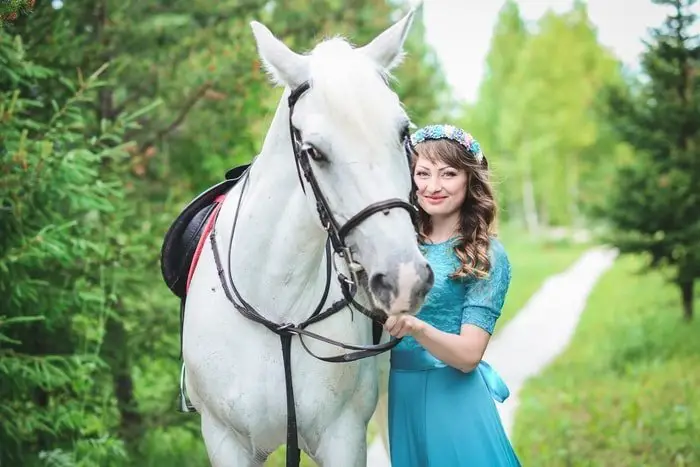 Buy A Horse: Viewing The Horse
---
Before buying a horse, you must observe the action of the horse on a paddock or field, or stable. The points are as follows:
First, make sure you examine the horse in the paddock or stable and being caught.

Have the horse walked and trotted up on a hard level surface so you can view the animal's natural action and gait. 

Then watch the horse being saddle and ridden by the owner.

Once the seller has demonstrated what the horse is capable of, have a ride yourself. If you feel the horse more than you can handle, say so.

If you are convinced, from what you have seen so far, you can handle the horse and ride it.

Make the horse do all the things you would like it to be able to do.

Make sure you take it over some jumps, for instance, if you want a horse that can jump. If there are no jumps set up, arrange to come at another time when jumps are set up.

If you are still interested in the horse once you have ridden it and it appears to meet all your suitability requirements, it is a good idea to try to arrange to take the horse to your stable for a trial period. 

This will allow you to spend a much longer time trying out the horse on your home ground.

If you have the horse for a reasonable length of time, you will be able to establish whether or not the horse is always as well-behaved as it was on the day you viewed it and whether or not the horse was drugged on the day you went to ride it.

The drugging of the horse to make them behave more sedately for prospective buyers can be a problem as even experienced horse people are sometimes unable to detect the use of drugs.

 Sometimes the seller will not allow a trial period, which is quite reasonable as the question of who is responsible for the horse during this period can be difficult.

If the trial is not permitted, return at least one more time to ride and handle the horse before buying.

Try to take the horse into an unfamiliar paddock to see how it goes away from home.
Final Advice On Buy a Horse
---
Before you decide that the horse is right for you, arrange for a vet check to be carried out to justify the suitability of the horse for the purpose for which you want it. In my article, I have thoroughly discussed almost all the points you look at before buying a horse. I think this piece of information will help you a lot. New horse buyers will benefit more from this article.