Equestrian sports are the oldest games and competitions in the world which are still popular. Equestrian sports or games are those games that involve horses. Horses are one of the oldest domesticated animals in human society. People used horses for drafting carts, agriculture, in war, pleasure, pride, and as companion animals. The use of horses in sports is also an ancient event. At present days horses are mostly used in games and sports, ceremonial riding, show jumping, competitive events, and as a source of pleasure.
Equestrian sports or horseback riding has many benefits for both physical and mental health. Horseback riding improves the muscle tone, enhances physical endurance, balanced body, encourages trust, improves mental health, source of good exercise, increases core strength, improves posture and balance, and increases socialization. Horse games and riding has a great therapeutic value to the physically and mentally disabled persons. Horse riding an also a matter of relaxation of body and mind.
What is the Most Popular Horse Sport?
---
Throughout the world, there are hundreds of types of equestrian sports. All sports are not equally popular and well-known everywhere. Few sports are popular worldwide and few are region-specific. The Olympics is the largest sports event in this Universe. Equestrian sports is one of the most popular sports events of the Summer Olympics which started in 1912. Equestrian events in the Olympics are Dressage, Eventing, and Showjumping. In my article, I shall discuss the most popular 25 equestrian games of the world for your easy understanding.
Equestrianism is also a great source of income for many people. The equine career includes horse riding trainer, showjumper, equine veterinarian, caregivers, Ferrier, equine transporter, and many more. Many animal welfare associations are concerned about horse abuse in equestrian games and sports. Many horses are rejected or culled after getting unfit from sports.
1. Dressage
---
Dressage is the sequential events displayed by a trained horse in a competitive event with a trained rider. Dressage is a popular event in the Olympics games. Dressage horses receive special training and they can work with minimum signals from riders. Most of the riders are female participating in Olympics Dressage Riding.
2. Eventing
---
Eventing or Triathlete is another most popular Olympic Equine sports event. Eventing is the combination of Dressage, Jumping and Cross-country performed by a single rider and his horse. Both rider and its horses are judged by a panel of judges selected by the Olympic team. Eventing originated in the Military to test their horses for its duty. The rider requires considerable knowledge of all disciplines and capabilities of his horse.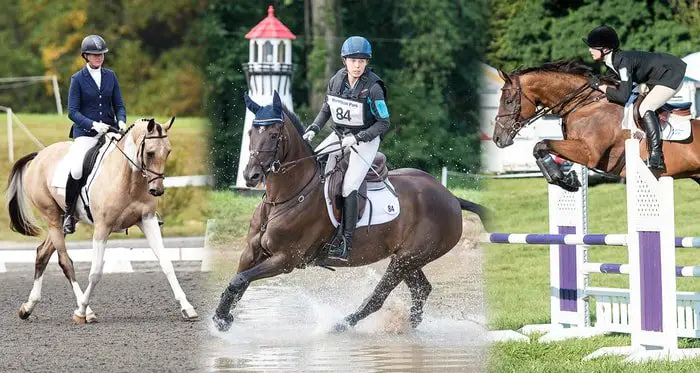 3. Showjumping
---
Showjumping is the crossing of a few specific obstacles by a trained horse and its rider. Showjumping is an important event in Olympic and all equestrian competitions in the world. The rules and regulations of showjumping are set by FEI. The horses need to warm-up by walking and trotting before jumping an obstacle. There are specific time and space for the event and it is unique for everybody.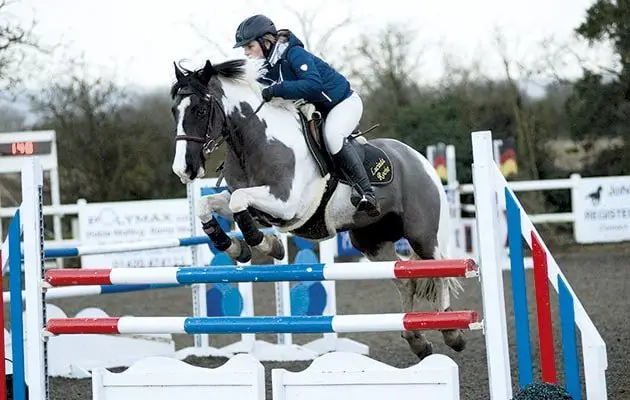 4. Combined Driving Event (CDE)
---
Combined driving is the test of a driver's ability to run a horse, energy, courage, and athleticism. CDE is an important event of Equestrian sports of FEI where dressage, cross-country marathon, and cone driving are tested. In this event, the driver sits on a horse carriage and is drawn by single, double or a team of four horses.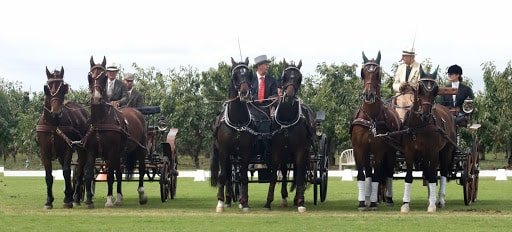 5. Endurance Riding
---
Endurance riding is one of the FEI events where horses and riders are tested for long-distance. In endurance riding horses normally cross 50 to 150 miles within one to three days. The Arabian horse is the most suitable for endurance riding. Pony horses are also used as they are stronger and require less maintenance. Endurance riding competition is organized in the United States, Australia, United Kingdom, New Zealand, and many countries.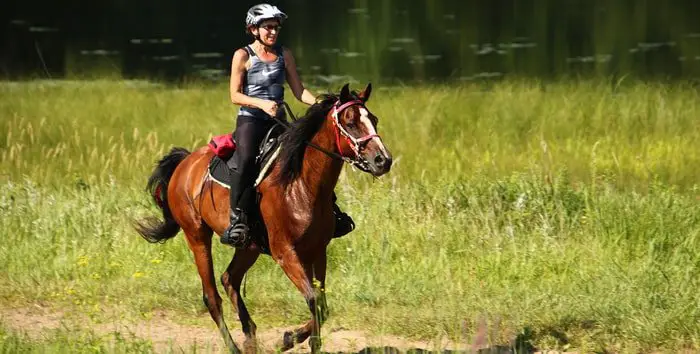 6. Equestrian Sports: Reining
---
Reining is the popular equestrian event originated in Mexico and the United States during the Spanish period. It is a specific type of riding in a restricted area. The American Quarter Horse (AQH) is the most suitable for reining as it is agile, quick, and has strong hindquarters. The sequence of events of reining is circling, flying and lead change, rundown, sliding stop, backup, rollback, spin, and stop.
7. Equestrian Vaulting
---
Equestrian vaulting or vaulting is the gymnastics activities on the horseback. The vaulting was mainly an event in the circus but at present, it is one of the popular events of EFI. There are many associations of vaulting like the British Equestrian Vaulting (BEV) Association, Triangle Equestrian Vaulting, American Vaulting Association, etc. Vaulting is also popular in European countries like Germany, Switzerland, etc. The equine therapeutic vaulting also used to treat physical and mentally disabled children to maintain balance.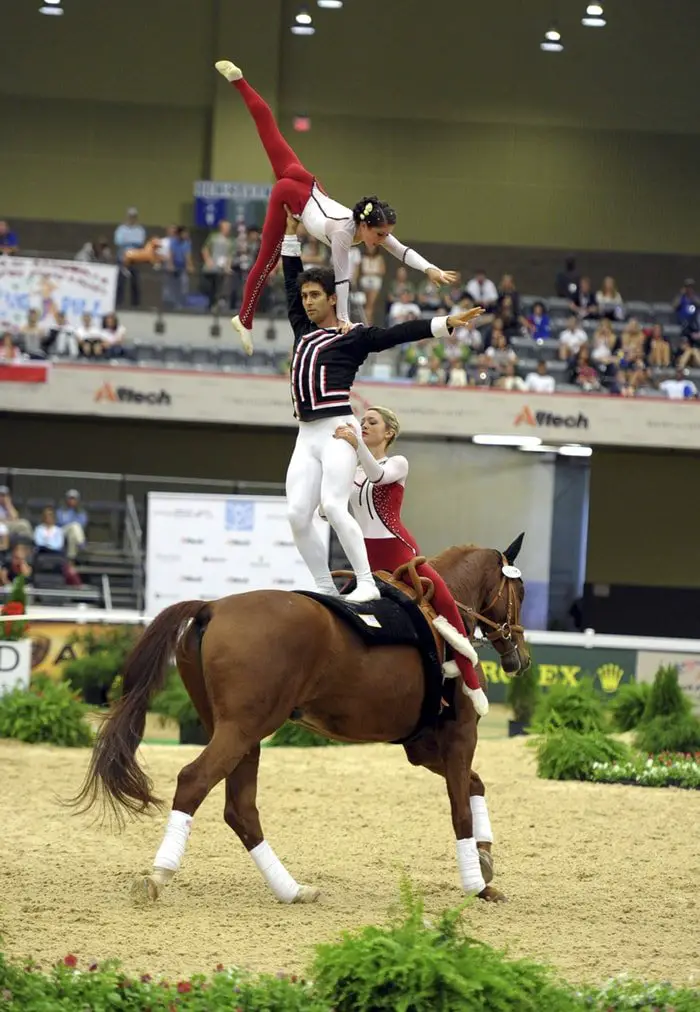 8. Equestrian Sports: Horseball
---
Horseball is the most exciting and thrilling equestrian event combination of basketball, baseball, rugby, soccer, hockey, and Harry Potter's Magical Quidditch. The horseball originated in 1770 in Argentina from Pato. At present, horseball is one of the popular events of FEI. Horses with extended agility and easy movement like Thoroughbreds are chosen by many riders for horseball.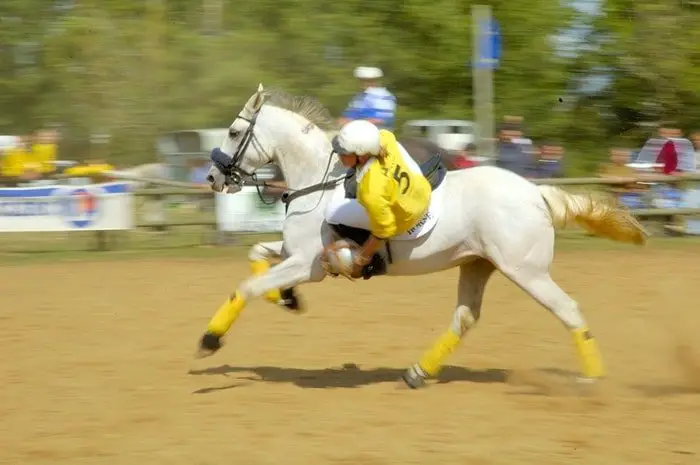 9. Tent Pegging
---
Tent Pegging is one of the ancient cavalry sports now recognized by FEI. Tent pegging originated in the military to remove the tent of enemies to bring them open. The game is played in many countries in the world but more popular in the commonwealth countries. There are three types of targets used in tent pegging like a ring to pass through without touch, a lemon to hit or slice, and a mannequin attack at a specific point.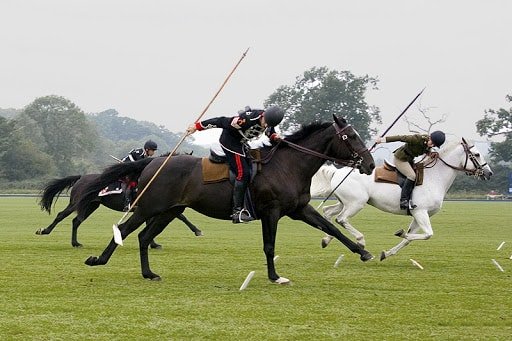 10. Flat Racing
---
Flat racing is the simplest form of horse racing without any obstacle. The flat racing ranges from 5F to 2 miles on a ground covered with green grass. The racing varies due to age, sex or ability of the horses. The types of flat racing are handicaps, maidens, classics, and group and listed races.
11. Harness Racing
---
Harness racing is one of the popular horse competitions in Scandinavian countries. In this racing, the horse competes in pacing and trotting pulling a cart called Sulky. In some countries( Europe, Australia, and New Zealand) the rider directly rides the horse on its back. Harness racing, one of the oldest games, originated in 1500 B.C by Assyrians.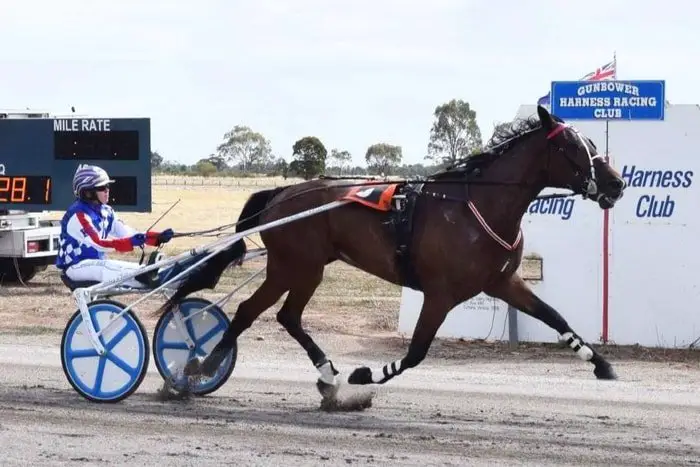 12. Point to Point Racing
---
Point to point racing originated in England in the 19th century for the fox hunter in the winter season. The minimum distance is 3 miles to a maximum of 4.5 miles. In the latter half of the 20th century, more than 200 competitions were arranged in the British Isles. Point-to-point racing is mainly for amateurs but also separately arranged for ladies, novices and children.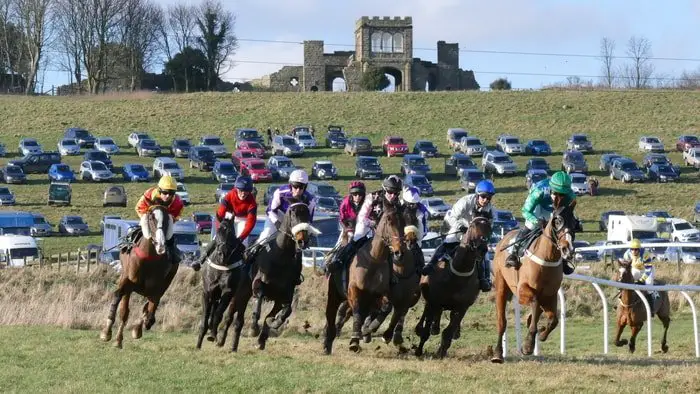 13. Steeplechase Racing
---
Steeplechase racing is the combination of flat racing with obstacle crossing by thoroughbred horse. Steeplechasing is the most exciting and thrilling horse game that originated in Ireland in the 18th century. It is a long race covering distance 4-6 miles with obstacles like hurdles, fences, and water jumps. Steeplechase is also very popular in Australia, the United States, Czech, and France.
14. Skijoring Racing
---
Skijoring is one of the most popular horse competitions in Scandinavian countries. In Skijoring a team of one or two horses, one rider and skier participated in the competition. In some countries, skiing occurs without a rider. The horses run in a gallop and cross a distance of 900-1200 feet with few obstacle jumping of 5-7 feet. Dogs, Reindeers, and motor vehicles are also used for skiing.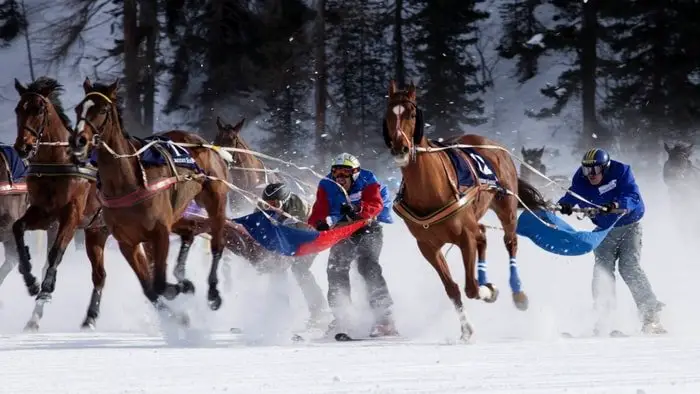 15. Thoroughbred Horse Racing
---
Thoroughbred racing is the racing competition by Thoroughbred horses governed by different national bodies. There are two disciplines of thoroughbred racing flat racing and National Hunt Racing or Jumping. The types of thoroughbred racing are selling race, claiming race, handicapped race, maiden race, allowance race, higher-class race, and Sweepstakes.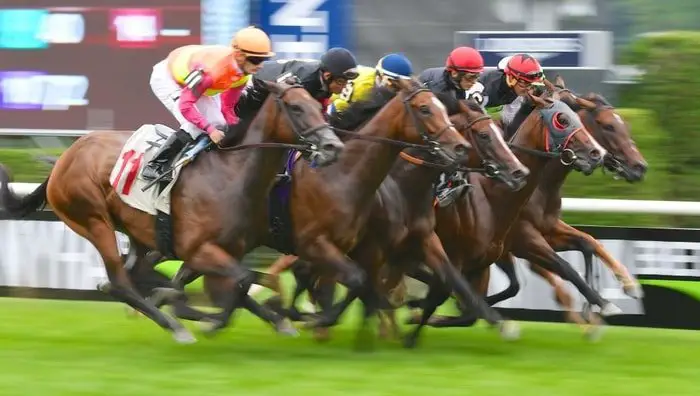 16. Para-Equestrianism
---
Para-Equestrian is one of the popular events of the Paralympic which started in 1996 in Georgia, USA. The Para equestrian is governed by the rules of FEI. In this event, para-dressage and para-driving two events are conducted as normal dressage and driving.
17. Classical Dressage
---
Classical dressage is the popular English riding where the horses are trained for a perfect gait. This is gymnastic training given to a horse's body with proper education. In classical dressage, the walk should be a marching gait, the trot should be a swinging gait, and canter should be a springing gait. The horse should have enough confidence, complete basic obedience, good looking, and healthy.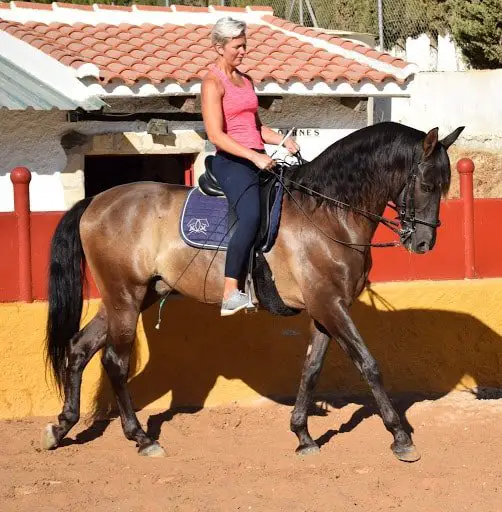 18. English Pleasure Riding
---
English Pleasure riding is a series of activities shown by the horse and rider in a competition. The horses exhibit few natural gaits like walk, trot, canter, gallop in a specific manner. There are three distinct categories of English Pleasure saddle seat, hunt seat, and driving. Horses of any breeds can be used or prepared for English Pleasure.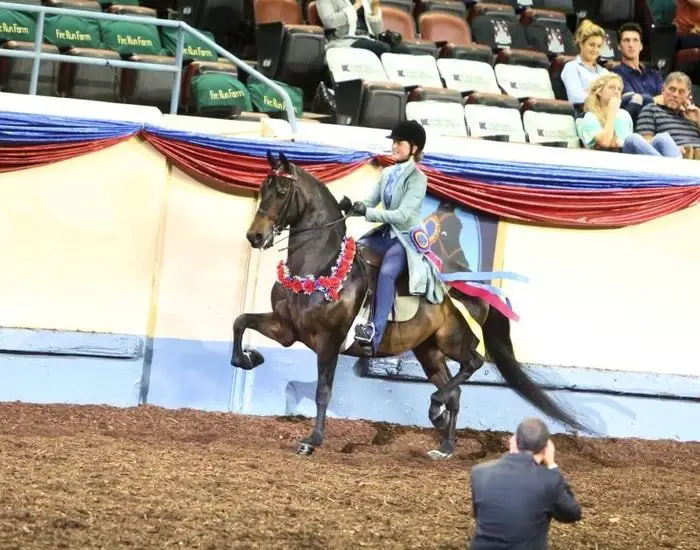 19. Equestrian Sports: Quadrille
---
Quadrille is a team riding show by a group of riders. The rider exhibits various activities with music and freestyle. The number of quadrilles is a minimum of four. The quadrille also offers riding training, group work, and camaraderie. Quadrille is performed by the rules governed by Spanish Riding School.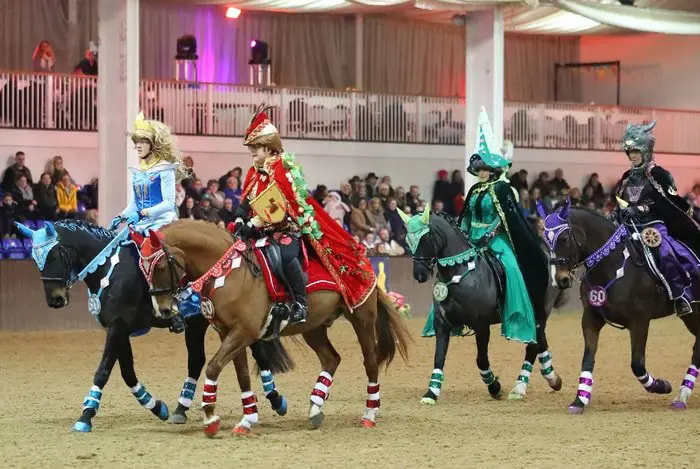 20. Barrel racing
---
Barrel racing is a rodeo equestrian sport first played in Texas in 1948 by a group of women. It is normally played by women but also played by men. Barrel racing includes a rodeo, gymkhana, and O-Mok-See. In this racing the rider and horse cross or circling three barrels kept at a specified distance within the shortest time. The Thoroughbred, Quarter horse, Appaloosa, and Paint Horses are most suitable for barrel racing.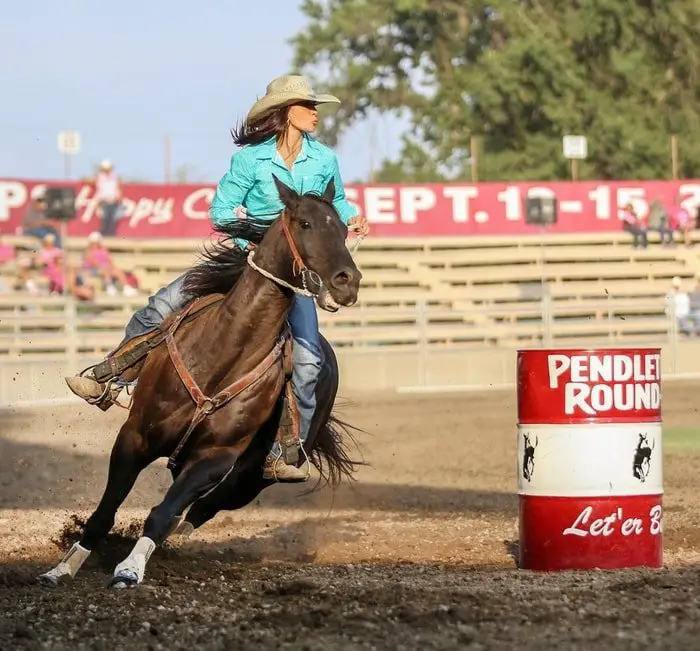 21. Horsemanship
---
Horsemanship is the combination of riding, training, and managing of horses by an individual. Horsemanship first practiced in the military. Training of horses includes natural gaits like walk, trot, canter, gallop, and other gaits in a perfect manner. Natural horsemanship is a psychology-based horse training having five steps are approaches and retreat, pleasure and release, reward and consequences, desensitization, and foundation training.
22. Equestrian Sports: Gymkhana
---
Gymkhana is one of the popular equestrian games consisting of speed events arranged in the western United States. It is known as O-Mok-See in other parts of America. The events included in Gymkhana are barrel racing, keg race, flag racing, keyhole race, pole bending, stake race, and mounted cow horse. Gymkhana normally organized by Pony Clubs of 4-H by the young riders. The rider should have energy, courage, endurance, well balanced, and perseverance.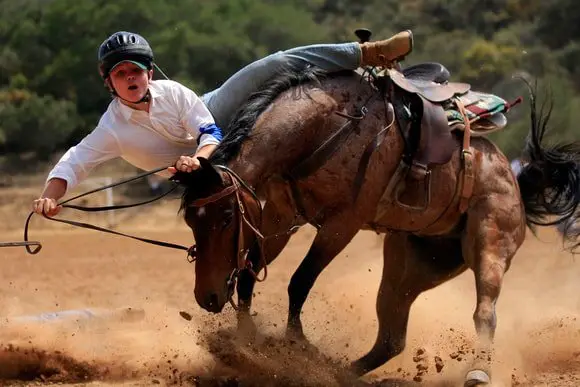 23. Rodeo Equestrian Sports
---
Rodeo is the most popular Western equestrian sport. In Rodeo, the events are barrel racing, steer wrestling, goat tying, calf roping, breakaway roping, cutting, tent pegging, team penning, and many more. Other rodeo games are Australian Rodeo, American Rodeo, Charreada, and Chilean Rodeo.
24. Harness Equestrian Sports
---
Harness equestrian sports are very popular in many places in the world including the United States, Europe, Australia, and Asia. The harness sports include Draft Horse Showing, Combined driving, Fine Harness, Pleasure Driving, Roadster, and Scurry Driving. The draft horse show is specific only for draft horse breeds. The fine harness is a competition of light but speedy horses like Arabian, American Saddlebred, Morgan, Hackney and Dutch Harness. In scurry driving, a pair of pony pull carts have the fastest speed to finish in the shortest time.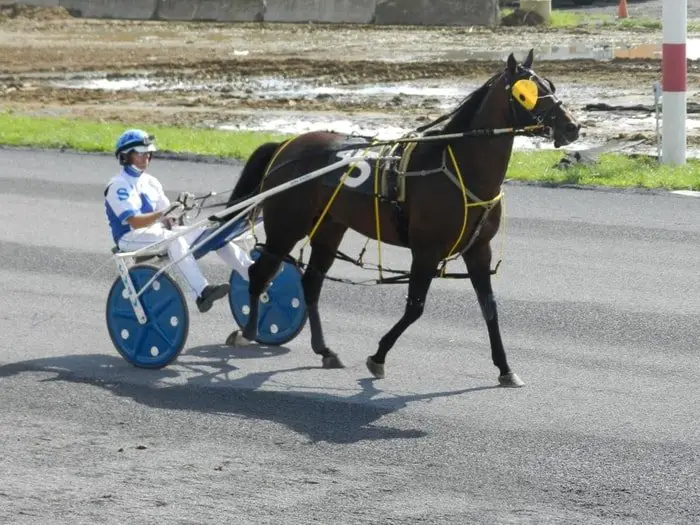 25. Team-Sports Equestrian
---
Equestrian team sports are common events of many competitions including FEI. The most popular equestrian games are Pato, Polo, Equestrian Drill Team, and Polocrosse. "Pato" is the national sport of Argentina which is the combination of polo and basketball on horseback. Polo is one of the oldest horse games in the world which originated in India. Equestrian drill team the group sports of horses showing different activities with music. Polocrosse is a combination of polo and lacrosse.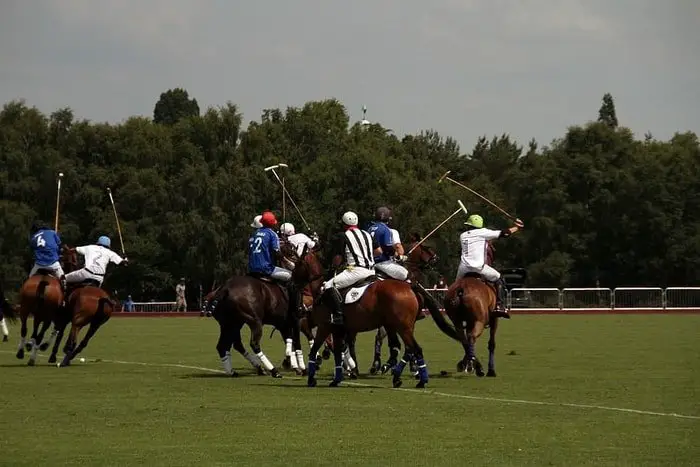 Final Talk on Equestrian Sports
---
We are already aware of the most popular equestrian sports in the world. There are many more games of horses that are region or country-specific. Equine sports are also a good career and source of income by generating employment opportunities. Horses will not only give you enjoyment but also give you money. I think this piece of information will help you a lot. This is an eye-opener for many of you. If you like this information, please share with your friends.